News
21 Arts & Métiers students #ECAMLyon have received the international certificate CSCA (Certified Supply Chain Analyst)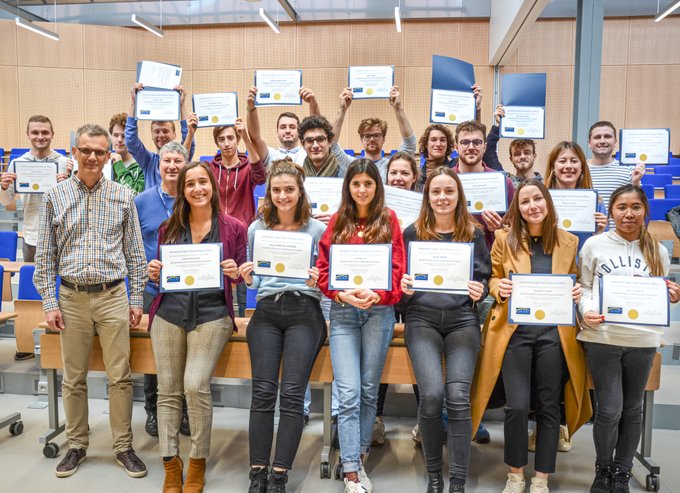 >> Read More
::/introtext::
::fulltext::::/fulltext::
Add a comment
ADMISSION OPEN IN PGD IN SUPPLY CHAIN MANAGEMENT
About ISCEA Bangladesh
ISCEA Bangladesh, the exclusive partner of ISCEA (International Supply Chain Education Alliance), USA, the world's most popular & recognized organization in Supply Chain education & certification. You would be happy to know that in Bangladesh there are already 350+ professionals that have been certified as Certified Supply Chain Manager (CSCM) from ISCEA Bangladesh. Also, around 1200+ students and young professionals been certified as Certified Supply Chain Analyst (CSCA) from different university and organizations under scholarship scheme of ISCEA.
United International University (UIU)
United International University (UIU) is a private university approved by the Government of the People's Republic of Bangladesh and University Grants Commission (UGC). UIU has the largest green campus among all the private universities in Dhaka city. The vision of UIU is to become the center of excellence in teaching, learning and research in the South Asian region. The mission of UIU is to create excellent human resources with intellectual, creative, technical, moral and practical skills to serve community, industry and region. we do it by developing integrated, interactive, involved and caring relationships among teachers, students, guardians and employers.'
Careers in Supply Chain Management
With literally hundreds of career paths to follow, working in the Supply Chain provides opportunities in every field, in both the private and public sector. Employers are looking for people with the ability to see the bigger picture and act strategically while delivering on short-term imperatives. People with inquisitiveness and a desire to understand patterns and trends within data are seen as particularly employable.
If you are a natural coordinator and would like to put these skills to good use there is plenty of scope to do so. The career opportunities afforded to graduates of this discipline are a massive draw and the upsurge in distribution vacancies is hardly surprising. Logistics and supply chain management is increasingly being recognized as underpinning the long-term plans of many businesses.
Why PGDSCM Certification?
With concepts such as sourcing, materials & logistics management and manufacturing, planning & control being covered in depth, students are fully equipped to tackle the complexities of Supply Chain. Earning a Post Graduate Degree in Supply Chain Management is an ideal program for fresher's, supervisors, junior and mid-level executives and those aspiring to become Managers.
Benefits:
Increases your hiring potential and gives you an advantage over your peers.
Expands your professional knowledge and skills in supply chain management.
Highlights your expertise in the operational skills of supply chain management.
PROGRAM DETAILS
Courses:
Strategic Supply Chain Management
Sourcing Management
Manufacturing, Planning & Control
Materials Management
Logistics & Distribution Management
Supply Chain Project (Project work)
Add a comment
Over 1300 students and young executives from 77 universities and business organizations have joined the competition this year. Forming 4 member teams, these participants have solved a very interesting case on possible horizontal collaboration opportunities across industry sectors in Bangladesh to reduce traffic burden, capture more opportunities and make their supply chain more efficient. Jury panel members from home and abroad have been carefully working on assessing the cases for the last 3 weeks.
In 2018, we have also been blessed with the largest ever 16 member Jury Panel who are all industry leaders and have been supporting ISCEA Bangladesh initiatives since its inception and helping a process that creates most valuable supply chain resources in the country. Our sincerest gratitude to the most respected Jury Panel Members of ISCEA Bangladesh.
For more details please visit: https://www.facebook.com/IsceaBangladesh
Add a comment